Ray Stevens Show - 2020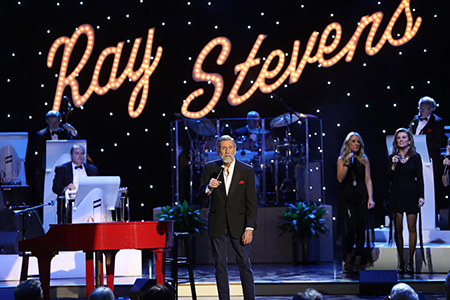 RAY STEVENS:


Ray Stevens performs live on stage with his fabulous A-Team Band Thursday and Saturday evenings! Fans will be thoroughly entertained with a 90-minute full concert, jam-packed with Ray's iconic hits and comedy classics. Ray will take you down memory lane with tales and stories from his legendary career.
You will laugh out loud and it will be an experience you will not forget.
Come early to experience the fabulous Piano Bar with live music from 5pm until showtime and post show until closing.

Table seating is available on the main floor in your choice of three price levels: VIP, Elite and Standard. You can purchase tickets on the main floor for just the show, or elect to add the delicious optional plated dinner! There are also traditional theater seats available for the show only in the Balcony.

MAIN FLOOR (Table Seating):

VIP Section (Show Only): $79.50
Elite Section (Show Only): $69.50
Standard Section (Show Only): $59.50
*Plated Dinner Option (Main Floor): add $19.50
BALCONY (Theater Seating): All Sections: $49.50
(show only; optional dinner not available)
PLEASE NOTE:
DINNER PRECEDES THE SHOW.
Piano Bar:
opens at 5:00pm
Plated Dinner seating: 5:30pm
Show only seating: 6:30pm
Show begins
: 7:30pm
Optional Plated Dinner:
Herb roasted Airline Chicken Breast, savory
roasted Boneless Center Cut Pork Chop, whipped Mashed Potatoes,

seasonal vegetables, fresh garden salad and hot, baked dinner rolls.
Plated Dinner includes coffee, tea or soda.

Desserts, Beer, Wine and mixed drinks are
available for an additional charge.
Please call the Box Office with any special
dietary needs or restrictions.